Trésor de Vintage wants to insure that your shopping experience is a positive one, and is hopeful that you will remain one of our loyal clientele. As such, we would like to share with you the following shopping tips to assist you in choosing items that will
meet with your satisfaction:
Sizing Tips and Measurement Charts
SIZING
Vintage clothing sizes are not the same as those now customary for modern fashion, sizing tags can be misleading by today's standards. Therefore all merchandise is carefully measured prior to uploading to the TDV website so that you can find your true fit. Additionally, many of our couture
and/or custom-made garments will not reflect a store size, correct measurements are the key to successfully purchasing vintage clothing online. Our merchandise is measured with the following basic measurement standards. We will also provide additional measurements upon request.
TDV MEASUREMENTS ARE AS FOLLOWS:
Length (L): Measured from the top of the shoulder to the bottom of the garment, front side.
Bust (B): Measured at the perimeter of the bustline.
Waist (W): Measured at the natural waist of the garment.
Sweep (S): Term used typically with outerwear, designates total width at hem of garment.
US standard clothing sizes
US standard clothing sizes were developed from statistical data in the 1940s-1950s. They are similar in concept to the EN 13402 European clothing size standard.
However, as a result of various cultural pressures, most notably vanity sizing, North American clothing sizes have drifted substantially away from this standard over time, and now have very little connection to it. Instead, they now follow the more loosely defined standards known as US catalog sizes.
WOMEN'S sizes
Women's sizes are divided into various types, depending on the overall height and the relative heights of the bust and waistlines.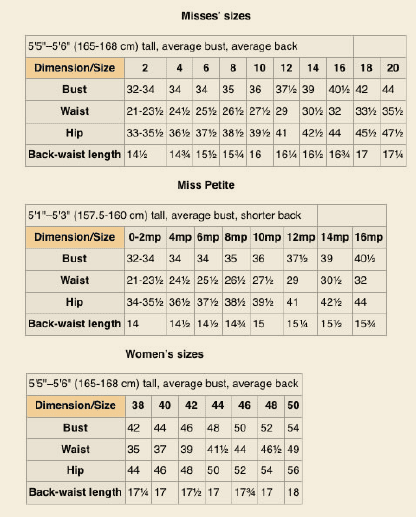 CONVERSION FROM CATALOG SIZES
Catalogs have departed from the US standard sizes sincethe 1980s. Companies now may provide the measurements for their sizes, which may vary even among different styles of the same type of garment. The sizes seen in catalogs generally have roughly the following measurements: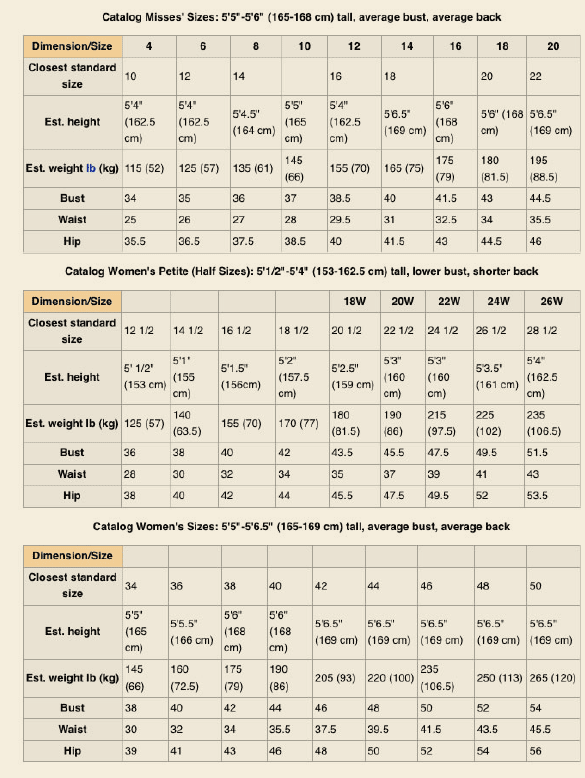 With the average American woman's height at about 5'4" (163 cm), both standard and catalog size ranges attempt to address a variety of weights / builds as well as providing for the "shorter-than-average" height woman with "petite" and "half-sizes". However "taller-than-average" women may find their size-height addressed by manufacturers less frequently, and may often find themselves facing issues of slightly too short pant legs and sleeve cuffs, as well as waist lengths.
BIOLIOGRAPHY
Reader's Digest Editors (2002). New Complete Guide to Sewing. Reader's Digest. ISBN 978-0762104208. Provides a complete listing of the standard sizes.